Evacuation, Exodus and Return: A Personal Encounter With Hurricane Katrina
By: Portlight , 7:17 PM GMT on February 22, 2017
This is the first part of a four-part series focusing on Global Climate Change and its impact on human lives and the increasing number of climate change refugees society will have to deal with. We will discuss the impact of Hurricane Katrina along the Northern Gulf Coast as it affected Hundreds of thousands of American lives in Louisiana and Mississippi directly, and millions of others indirectly. All together, 1.36 million people applied to FEMA for disaster assistance in the wake of Katrina.

We find ourselves this day and tomorrow in a warming world. A world where the human influence on the Natural World is 170 times more than what Nature slowly does over thousands of years. In the Natural World before fossil fuel burning we were warming globally by 0.01°C per century. As this recent new research has shown, greenhouse gas emissions caused by humans over the past 45 years, on the other hand, "have increased the rate of temperature rise to 1.7 degrees Celsius per century, dwarfing the natural background rate."

The record setting 2005 Atlantic Hurricane Season was a clear signal to this author that a new norm has been reached. So we begin our discussion of what I and others witnessed, experienced and learned from the Storm that caused the largest displacement of Americans since the Great Dust Bowl of the 1930s.



Hurricane Katrina in the Gulf of Mexico.

Our home is located in the Bonnabel Place Neighborhood just south of Lake Pontchartrain's South Shore. The Causeway Bridge that spans the 24 miles over the Lake is just 2 miles northwest of us. Bonnabel Blvd, our street, is only one and half miles WEST of the 17 St. Canal. It is the white vertical line in the image below. Our corner is the street above Veterans Blvd.




We all were Hurricane-weary on Friday August 26th, 2005. Just a lil over 6 weeks earlier Hurricane Cindy lashed New Orleans with the worst hurricane impact since Major Hurricane Betsy in 1965. At the time, it was called Tropical Storm Cindy as it came thru the night of July 5-6th. Myself, I was not overly concerned with the small sized storm as it approached, as I thought it was a non-issue as the rest of us did. No one left, no one boarded up, or did anything really.

I was tired and went to sleep as the rain and wind began. When I awoke suddenly a few hours later, I went to the front door and Wow! it was blowing like a Cat 1 outside. It was a complete surprise. Moments later the service line to our Breaker box was felled by the neighbors falling tree limb. Boom. Darkness, More Booms, neighborhood out. Tuning then to AM 870, WWL radio, the information was almost non-existent.

So we waited for a few hours watching the Storm tear away tree limbs and leaves from fully greened oak trees on the Neutral Ground just across the street here. We all knew and stated the next morning as we walked about conversing, sharing those stories of the night before, as one does. "Man, that sure acted like a Cat One Hurricane", was the unanimous consensus from anyone 45 or older. Betsy was the only worse thing we remembered. In the post 2005 season analysis, Tropical Storm Cindy was upgraded to a Cat 1 Hurricane.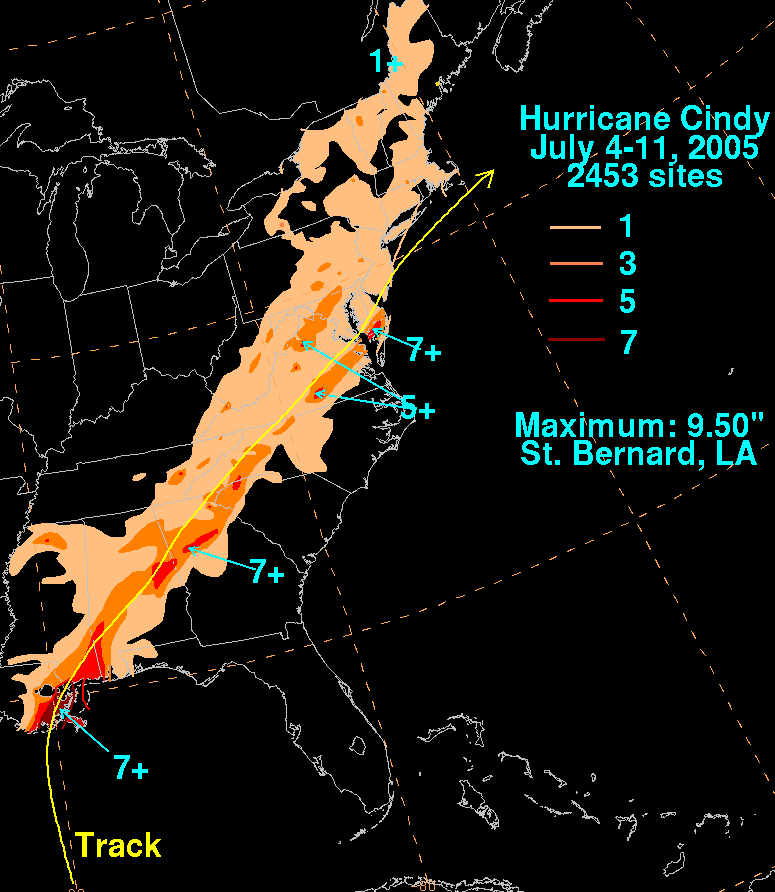 Hurricane Cindy rainfall totals.

Now, what I write here next is a key aspect of what occurred in 2005 and was barely, if ever, discussed in any media I can find. It is a substantial, if not a deciding factor, for many.

Hurricane Ivan the year before shook us, and it shook tens of thousands to evacuate New Orleans in September 2004. We sent our son out with my sister to Houston for Ivan. He discovered What-A-Burger, and for us, that was the only "damage". Also as a footnote, the "Ghost of Ivan" was a unique tracking experience. And a tad unsettling as well.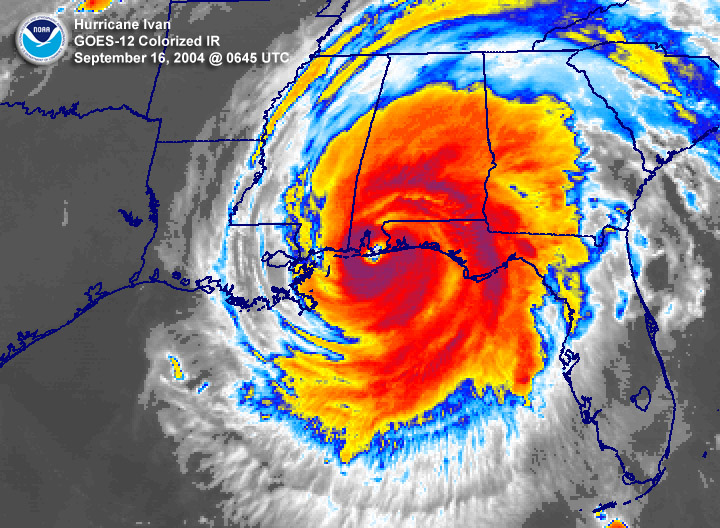 Hurricane Ivan 2004, NOAA Image.

But it was only the second time in New Orleans History that a evacuation was ordered or recommended. Hurricane Georges in 1998 was the first ever.

Now we fast forward back to post-Cindy in 2005. It is the week after Cindy, and now Major Hurricane Dennis was churning thru the Gulf of Mexico.



Hurricane Dennis inland on July 10, 2005.

So off went Jr. with family again...this time to San Antonio, and of course, more What-A-Burgers. Once again many New Orleanians hit the road out for Dennis, which would landfall in the Florida Panhandle...on July 10th. In its lifetime, Dennis would take 89 lives, mostly in Haiti.

So now that is the set up in time here post-Dennis in 2005. Two evacuations, two years in a row, and we were spared...save for the lashing New Orleans took from Cindy.

Fate though, had terrible plans for after this reprieve. Deadly, Calamitous, Historic plans.

The Evacuation West and North
Friday, August 26, 2005 we realized the situation was changing rapidly. It became a stark realization overnight watching the storm and data coming in on TV and wunderground that we would be evacuating West or North. We began Saturday morning securing the House and packing for leaving late Saturday afternoon or soon after dark. The whole neighborhood was in a constant steady frenzied intense evacuation mode, as securing a Home for a Major Hurricane is not the easiest task, let alone sorting what we were taking with us. Pictures and memories were loaded as well as the documents and other must-take items. Time was not waiting. It was diminishing quickly.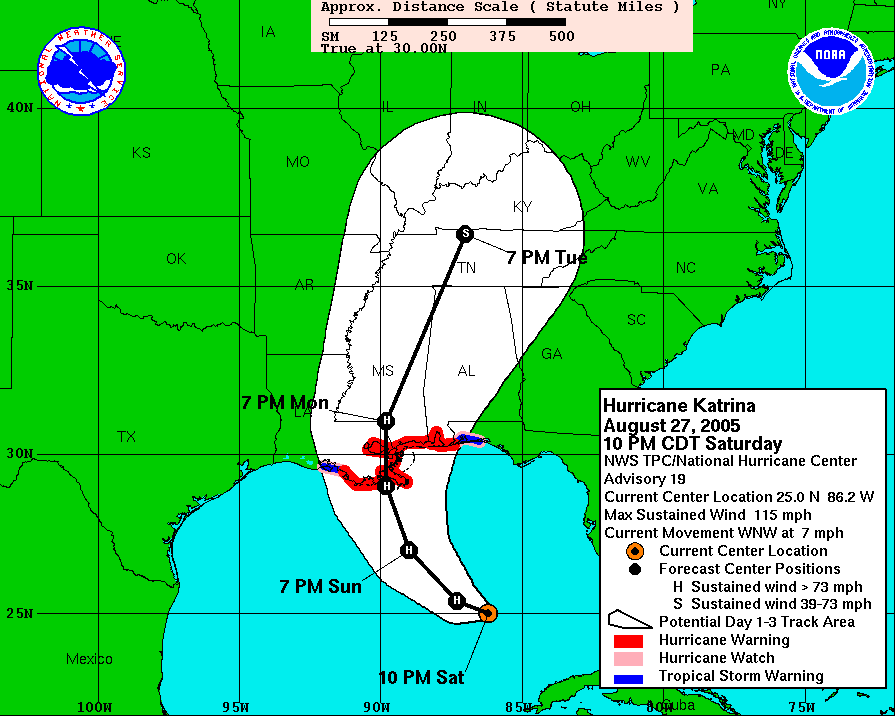 NHC forecast for Hurricane Katrina, August 27, 2005.

I saw the traffic on the Causeway bridge on the local news going North and decided it was going to be the best route out for us. It is only 1.5 miles away.

An hour later, past 9pm, we all realized how tired we were. I made the decision then that we would rest overnight and leave at first light Sunday morning the 28th. The traffic out of New Orleans and the Gulf Coast was in full bug out mode. Something wicked was coming. This was the one we had all feared, and our Grandfathers warned us about. One coming in from the south to southeast, intensifying with a 30°/90° lat/lon landfall solution. This was not a drill. This thing was coming. Everyone who could leave was leaving. Even renowned meteorologist Nash Roberts left with his wife. When folks saw that, the rest of His neighborhood, every one of them, followed suit, and lived. (From wiki: Nash Roberts and his wife evacuated in advance of Hurricane Katrina in 2005, the first time he had left town for a hurricane. Nash figures prominently in a 2006 book about Hurricane Camille, "Roar Of The Heavens," by Stefan Bechtel.)

Hurricane Camille in 1969 and Betsy from 1965 were in many minds this hour. They were the benchmarks in my living memory. I saw them both. Many based their decisions on those storms. Many were not fully aware of the situation I strongly feel. Even in August 2005 people still talked in hushed tones about those 2 storms. Many were weary of evacuating again after Ivan and Dennis too. Many could not afford to leave. Cindy set us up. Those things still carry much weight in my memory, even in 2017.

Personal decisions made the next 30 hours would have life and death consequences for 500,000-1,000,000 Americans.

Sunday Morning the 28th broke breezy, hot and muggy. It was time to go. But a squeaking water pump and a seal water system failure in my Saturn SL1 was noted in the last check under that hood. So the plan changed to the wife leaving with Jr. My daughter had left with the Dominican High group going to Baton Rouge Saturday afternoon. I gave them final direction to head north to Memphis as Jackson was full. I would follow up behind them after I solved the car issue. We embraced one last time. Then they were off.

The city and suburbs emptied out steadily all day. The Storm was now a Category 5 and still coming. The Sky was angry and the remarkable outer bands of high clouds came rolling in. My German Shepherd Nova and I drove down to the Bonnabel Boat Launch. The issue with the Saturn cooling possible failure would have to do. I had to evacuate to the west and I still planned to exit after the main pack was gone. They were now all mostly gone as dusk came. I looked at the data closely again and decided then that I would stay. So I prepped a refuge in the attic...and had the access out to the roof if needed. A 3 pound sledge mall, a life vest, and a scuba buoyancy compensator with a CO2 inflater for Nova. I also made a hurricane-proof radio with a old AM truck radio from the garage with a 12-volt battery. I then taped a small speaker to the whole stack. It would do nicely.

This was nuts. I live 1.5 miles from the south shore of Lake Pontchartrain. My faith was in the west -to-east 18-ft high South Shore Levee.

I boarded up the remainder of the north and west side openings. There were only 8 of us left on the block. A 3 mile long block. Remembering the mistake of sleeping as Cindy approached, I set the flip phone alarm for 3 am and then laid down to rest on the living room couch at midnight. Preparing and going thru a major hurricane whoop's one mentally and physically. Rest is a must before impact. I learned that the hard way after Major Hurricane Elena in Mississippi in 1985.

It was now Monday morning August 29th, 2005.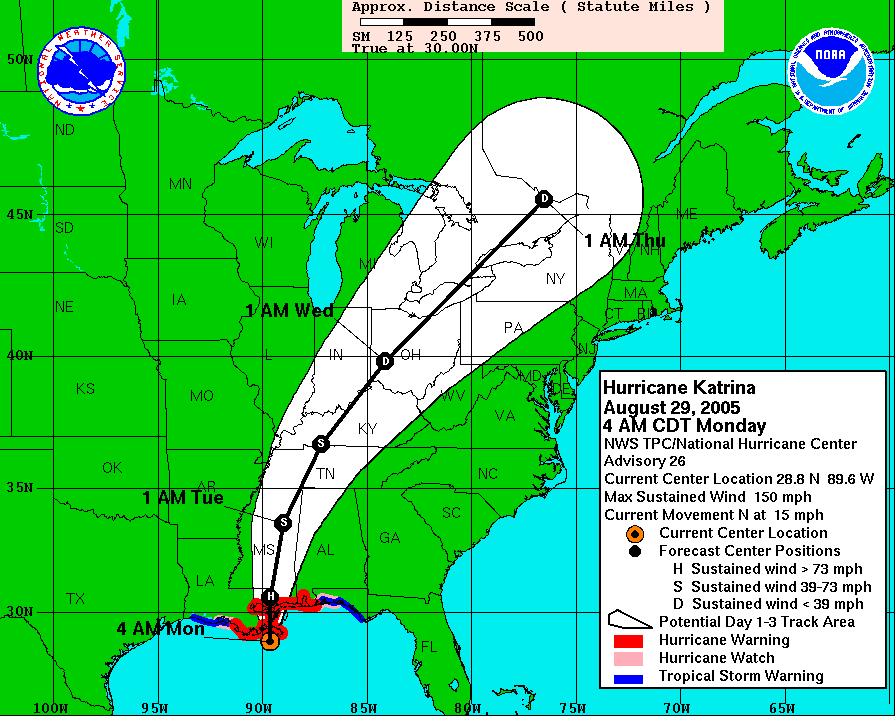 NHC forecast for Hurricane Katrina, August 29, 2005.

It began in earnest as the northern edge of the eyewall hit. It was 5:30 am CDT here. It was really picking up to sustained tropical storm-force winds and higher gusts. The local TV reported the wind was sustained at Grand Isle to my south at 125 mph. The power went out and the 12 hour VHS tape stopped recording at that moment. Conditions outside went plum downhill to sustained hurricane-force with gusts to 120 mph here 'round 8:30 am.

I cannot respectfully do justice to the next 6 hours as anyone from Houma, Louisiana to Mobile Bay knows, and has their own memories of that Hurricane. It was big, long, and different. Katrina had longer, stronger gusts and strength and veracity that nothing before in my experience or since relates well to. She was a beast, in every way. The last report I truly remember was around 8:30 am CDT on AM radio that the water was coming up fast in Chalmette to my east. That water was coming my way.




By late afternoon the winds were out the WSW and we ventured out with a football helmet on and a rain suit. Nova wasn't too keen on that.

Power was gone; natural gas hung in the air. By sunset, the sky was clearing. Nova and I walked and waded thru the water in Bucktown up to the East-West Levee. The lake water was at the top of the levee at the boat launch and it had held. There was plenty of lake overwash from the east and north, and northwest winds into Bucktown, as debris floated in about 3 to 4 feet of water there for 3 blocks up to the levee. We waded back thru the water and walked up the street towards home. Our neighborhood was dry save for some street flooding in areas from the rains. The six-foot north fence was blown over, and shingles and trees were down. Storm rain water had poured down thru the oven vent. But we were intact. Me and the neighbor next door rejoiced in the fact that we had dodged a bullet being on the west side.

I was never so wrong in my life.

Our thought's went to all those to our east. Tuesday afternoon when we got to the 17th St. Canal in Bucktown and saw the other side, the Orleans Parish side, we were shocked and stunned. Water was up to the gutter lines as far as the eye could see east and south. By Friday, my faith would be tested in ways I never trained for nor could have never imagined.



Bonnabel Place Neighborhood near Lake Pontchartrain early morning Tuesday, August 30, 2005.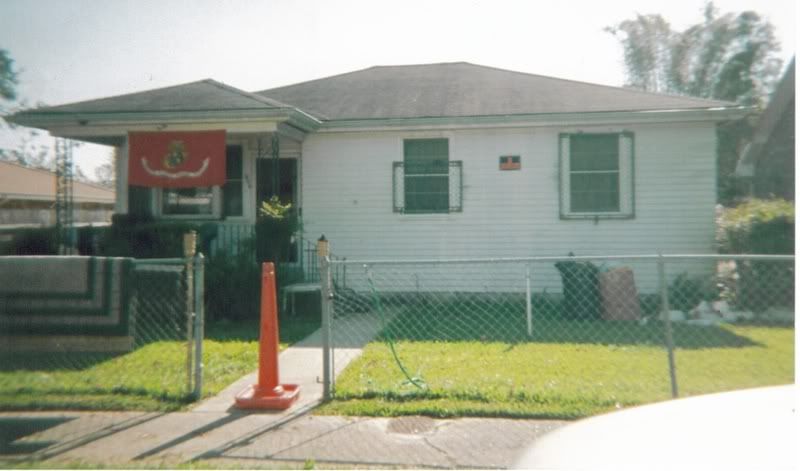 The House, or "Bivouac" Tuesday, September 6th, 2005

Reunion and Reality
It was around 1 pm CDT when the Northwest Airline plane landed in Memphis on Friday, September 16th, 2005--one of only three flights out of New Orleans MSY that day.




Nineteen days post-Storm, and I was finally reunited with my family. New Orleans was still not fully drained. Tens of thousands were scattered across the entire United States from Houston to Washington State, to Atlanta to New Jersey to points beyond.



17th St. Canal Breach NOAA High Altitude thumbnail image. Larger Image

Fifteen hundred were dead from Mississippi to Louisiana. Families were scattered willy-nilly from Coast to Coast. A major port city and entire two-state coastal region had been destroyed, almost biblically.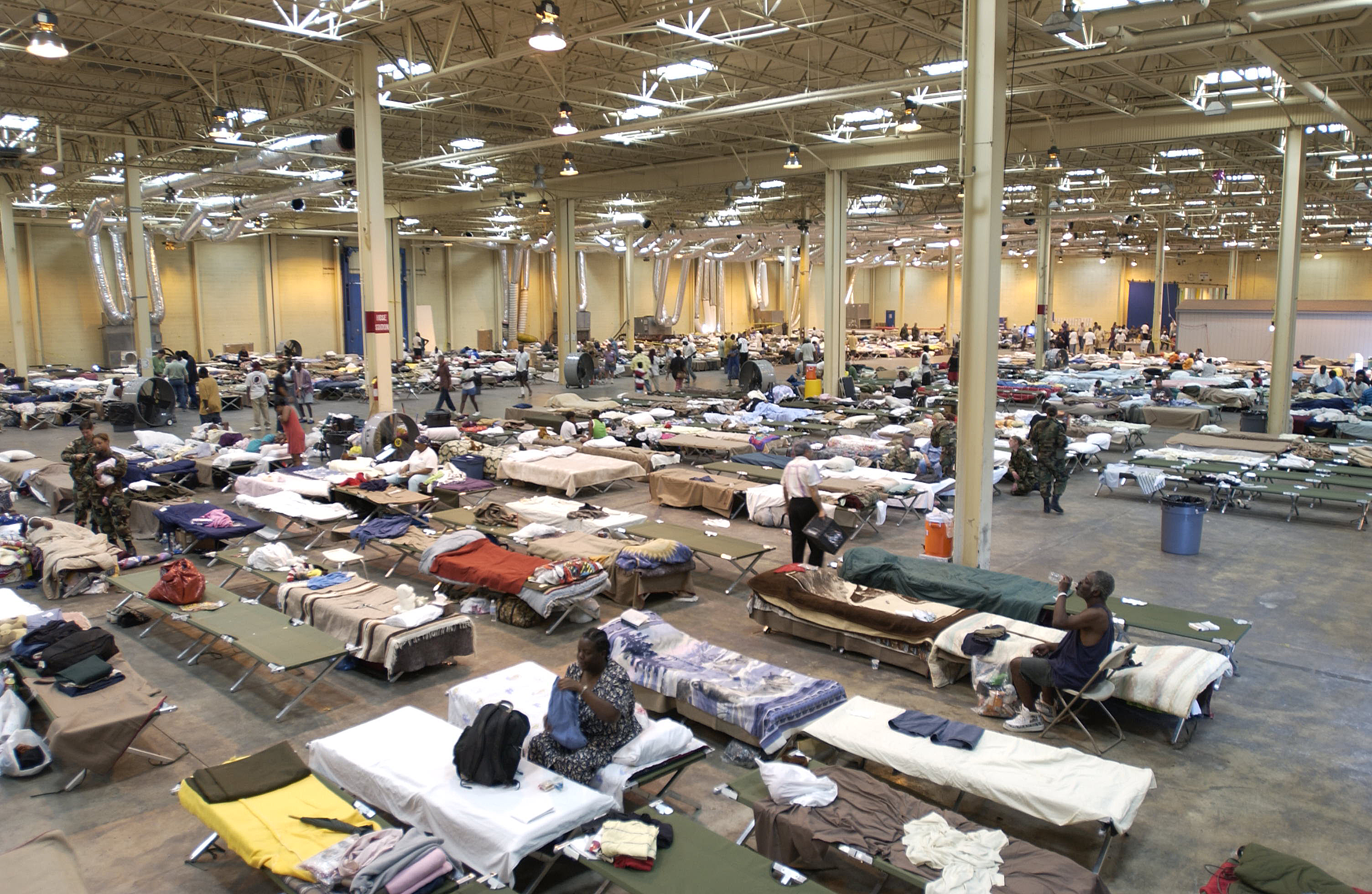 Our own family's loss was my recently retired nursing PhD cousin who died Sunday September 4th alone, at a hotel in Alabama. She wouldn't be buried till November. We found out the day of her funeral in Waveland, Mississippi at the remnants of St. Clares Church. My sister and I both made it there for the service.



Beach Rd, Waveland, Mississippi October 2005.



Stranded victims of Hurricane Katrina wait in line to be evacuated from New Orleans International Airport September 3, 2005 in New Orleans, Louisiana. Image credit: Mario Tama/Getty Images.



Evacuees crowd the floor of the Reliant Astrodome September 2, 2005 in Houston, Texas. The facility was being used to house 15,000 refugees who fled the destruction of Hurricane Katrina. Image credit: Dave Einsel/Getty Images.



People waiting to be evacuated from the Superdome (BACKGROUND) in New Orleans taking cover after the National Guard reported shots being fired outside the arena, six days after Hurricane Katrina. Image credit: NICHOLAS KAMM/AFP/Getty Images.

Not since the Great Dust Bowl of the 1930's had so many Americans suddenly been displaced. The struggles that folks in Mississippi and Louisiana experienced were many. Return and re-entry was shocking for thousands, and some never came home. Some made new lives in new places. Some died upon crossing their own destroyed homes' threshold. The burden for some was just too great. Those number are not part of the official storm death toll. They remain counted in the lives of their survivors. Calamity displaced many and challenged a whole nation who responded in ways remarkable. For that we are forever grateful as well.




The volunteers continue to come to this day. To see, to help to enjoy, live and celebrate life with us. Some of them stayed or moved here. The rebuilding was not easy and some lessons pre- and post-hurricane were hard-learned. We survived. We were lucky. We had a FEMA trailer and have had the wunderground to share ours and friends' stories here for eleven and a half years now.

From Pascagoula, to Bay St, Louis, to Slidell to the 9th Ward, Katrina's impact will never be completely erased nor ever forgotten. We have a new living generation. The one behind us who we raised and who witnessed what happened August 29th, 2005. You don't have to tell them to go. Those who were 10 then will be 22 years old this year.




The warming world we live in today will only continue to create warmer Gulf of Mexico Sea Surface Temperatures and deeper loop eddies in the Gulf Stream, ideal for fueling future Katrinas.

All the storms mentioned above occurred in only two seasons. They were many more and all impacted lives where they made landfall. Look again closely at the tracks from just those storms alone. There will be more in the years to come. Maybe this year.

Be prepared.

Be ready.

Have a plan.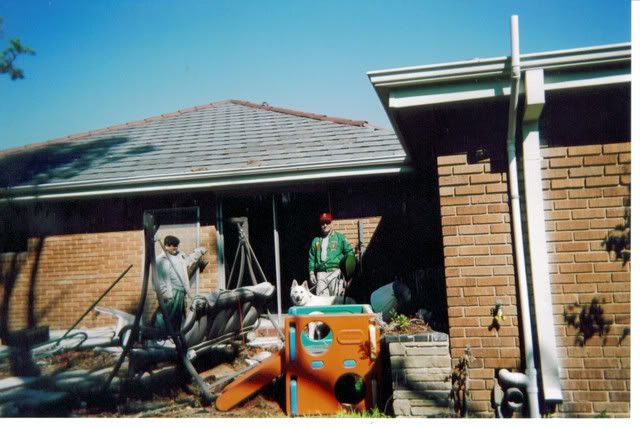 Family shared Home in Bay St Louis, Mississippi built by my Grandfather and Father in 1959.
Patrick Jr. with Patrick Sr. and Nova, October 2005.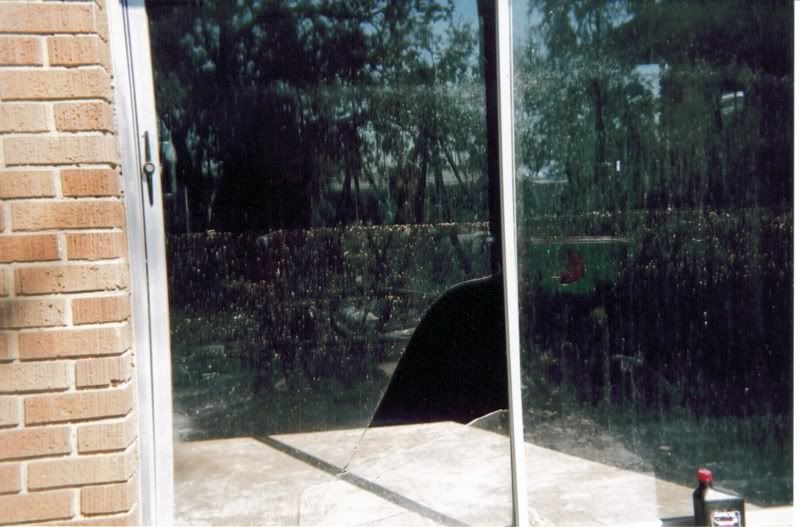 Surge Height on the sliding glass door. This Home is 3.5 miles from the Hwy 90 Bridge at the Bay, inland to the West.

May we never forget that Calamity knows no borders...only Men's minds and maps do.

Peace.

Patrick Pearson Sr.


Video 1. Youtube Video from the Guerra Family as Katrina's storm surge roared into Chalmette , Louisiana.


The views of the author are his/her own and do not necessarily represent the position of The Weather Company or its parent, IBM.
Reader Comments
Portlight Disaster Relief
Previous Entries for 2018
Recommended Links