Caleb/WA Tropical Lows/24U

BLOG INFORMATION LAST UPDATED
24MAR2017 8:00 a.m UTC UTC/24MAR2017 3:00 a.m. CDT






The current conditions in my area (KILSTERL1) data

-------------------------------------------------

Tropical Cyclone and Typhoon 2017 season
=================================================
-----------------
Northwestern Pacific
-----------------
Japan Meteorological Agency: Tokyo
Hong Kong Observatory: China
Typhoon 2000: Philippines
PAGASA: Manila, Philippines

------------------
Northern Indian Ocean
--------------------
India Meteorological Department: New Delphi
Thailand Meteorological Department

------------------------
Northeastern Pacific Ocean
------------------------
National Hurricane Center: Miami, FL

-------------------------
Central Northeastern Pacific
----------------------------
Central Pacific Hurricane Center: Honolulu, Hawaii

---------------------------
Southern Indian Ocean
---------------------------
Bureau of Meteorology Australia
Tropical Cyclone Warning Center Jakarta: Indonesia
Mauritius Meteorological Service
Reunion Regional Specialized Meteorological Center

--------------------------
Southern Pacific Ocean
-----------------------
Bureau of Meteorology Australia
Fiji Meteorological Services: Nadi
Tropical Cyclone Warning Center: Wellington

=========================================

CURRENT ACTIVE STORMS IN THE WORLD

-------------------------------------------------
========================
Northwest Pacific Ocean
=========================

Area of Responsibility
==============================
RSMC: Japan Meteorological Agency

Japan Meteorological Agency


Tropical Disturbance Summary
==========================

Philippines Atmospheric Geophysical and Astronomical Services Administration

Tropical Cyclone Outlook
==============================

Storm archives (Active Storms in Color)
======================================

Next ID: TD 02

------------------------------------------------ ------------------------------------

========================
Northern Indian Ocean
=========================

Area of Responsibility
==============================
RSMC: New Delphi


India Meteorological Department

Tropical Cyclone Outlook
===============================

Storm archives (Active Storms in Color)
======================================

Next ID BOB01/ARB01

---------------------------------------------- -------------------

========================
Southwestern Indian Ocean
=========================

Area of Responsibility
==============================
RSMC: Mauritius
RSMC: Seychelles


Seychelles Meteorological Services

Tropical Cyclone Outlook
=====================

Storm archives (Active Storms in Color)
======================================
March
06R.Enawo - 925 hPa
07R.Fernando - 988 hPa

Next ID: 08R

-------------------------------------------------
========================
Southeastern Indian Ocean
=========================

Area of Responsibility
==============================
Tropical Cyclone Warning Center Perth (90E-125E)
Tropical Cyclone Warning Center Darwin (125E-142E)
Tropical Cyclone Warning Center Jakarta (north of 10S)


Tropical Cyclone Warning Center Perth

TROPICAL CYCLONE CALEB, CATEGORY 1
14.5ºS 100.8ºE - 40 knots 995 hPa

Tropical Cyclone Bulletin
=======================

At 2:00 PM WST, Tropical Cyclone Caleb, Category One (995 hPa) located at 14.5S 100.8E has 10 minute sustained winds of 40 knots with gusts of 55 knots. The cyclone is reported as moving south southwest at 8 knots.

Gale Force Winds
==============
90 NM from the center in northeastern quadrant
80 NM from the center in southeastern quadrant
120 NM from the center in southwestern quadrant
120 NM from the center in northwestern quadrant

Tropical Cyclone Caleb should continue moving to the south over open waters south of Cocos and Christmas Islands. It is forecast to remain over open waters, and is not expected to produce gales over Cocos or Christmas Islands or the Western Australia mainland.

Dvorak Intensity: T2.5/2.5/S0.0/24 HRS

Forecast and Intensity
===============
12 HRS 15.0S 100.8E - 40 knots (CAT 1)
24 HRS 15.5S 100.9E - 40 knots (CAT 1)
48 HRS 15.3S 100.7E - 40 knots (CAT 1)
72 HRS 14.9S 100.0E - 35 knots (CAT 1)

Additional Information
=================
Tropical Cyclone Caleb is tracking south over open waters south of the Cocos and Christmas Islands.

The system was located by microwave imagery overnight to the southeast of the deep convection. Curvature of the deep convection on the 2059 UTC microwave image continues to remain weak and cloud tops have warmed over the last several hours.

The intensity of 40 knots is influenced by earlier ASCAT passes [0200-0300 UTC], which showed gales to the north, west and south of the somewhat elongated center. This is a little higher than the Dvorak analysis which yields a FT/CI of 2.5. This is based on a shear pattern with the low level center under 0.5 degrees from the edge of the deep convection. Adjusted MET is 2.5.

Development has been supported by strong low-level forcing from monsoonal northwest flow to the north and southeasterly surge from the sub-tropical high to the south, and a slight decrease in the shear over the system. Counterbalancing this has been a weakening upper-level outflow pattern. Although the system is moving into a more neutral shear environment, it appears drier air is starting to entrain through the northeast flank and the system will become isolated from the monsoon flow in the next 12 to 24 hours. The ocean heat content becomes more marginal south of 15.0S. Gales in southern quadrants are likely to be maintained for several days from the strong southeast synoptic flow as a new sub-tropical ridge builds to the south early next week.

The system is forecast to move in a southerly direction over the coming 48 hours due to a strong monsoonal surge to the north and a mid level trough and low to the southeast. Motion should become slow on Sunday as a mid-level ridge starts to develop to the south of the system, and then from Monday onward this should begin to steer the system in a westerly direction although models do differ on the extent of the eastward movement before recurving towards the west.

Tropical Cyclone Outlook (24MAR)
========================

At 2:00 PM WST, A small tropical low was located near 15.5S 117.9E (about 550 km west northwest of Broome) and moving east at about 25 km/hr. It is moving towards the Kimberley coast, but should slow down tonight before moving south during Saturday and then southwest on Sunday and may develop into a tropical cyclone.

Tropical Cyclone Formation Potential
===========================
Saturday: MODERATE
Sunday: MODERATE
Monday: LOW

Tropical Cyclone Warning Center Darwin

Tropical Cyclone Outlook
=========================

Storm archives (Active Storms in Color)
======================================
March
20U.Blanche - 988 hPa
21U.NONAME
22U.NONAME
- 995 hPa

Next ID: 25U

========================
Southwestern Pacific Ocean
=========================

Area of Responsibility
==============================
Tropical Cyclone Warning Center Darwin (142E-160E)
Tropical Cyclone Warning Center Papua New Guinea (north of 10S)


Tropical Cyclone Warning Center Brisbane

TROPICAL LOW 24U
16.7ºS 151.8ºE - 25 knots 997 hPa

Tropical Cyclone Advice #2
=========================

At 4:00 PM EST, Tropical Low (997 hPa) located at 16.7S 151.8E or 650 km east of Cairns and 610 km east northeast of Townsville has 10 minute sustained winds of 25 knots with gusts of 45 knots. The tropical low is reported as moving southeast at 7 knots.

The tropical low has been showing signs of strengthening and has been moving towards the south southeast during today. On Saturday, the low is expected to develop into a tropical cyclone and adopt a west southwesterly track, bringing it towards the north Queensland coast. Conditions are expected to favor the continued intensification of the system as it approaches the coast over the weekend and early next week.

GALES are not expected along the coast in the next 24 hours.

However, given the expected intensification of the low and the forecast track towards the coast, coastal and island communities between Cape Tribulation and St Lawrence, including the Whitsunday Islands, may begin to be affected by this expected tropical cyclone during Saturday evening or Sunday morning.

Dvorak Intensity: T2.0/2.0/D/24 HRS

Forecast and Intensity
===============
12 HRS 17.3S 151.8E - 35 knots (CAT 1)
24 HRS 17.6S 151.5E - 40 knots (CAT 1)
48 HRS 18.3S 150.5E - 75 knots (CAT 3)
72 HRS 19.0S 148.5E - 85 knots (CAT 3)

Additional Information
=================
Position fix is considered fair based on a combination of animated visible imagery, Willis Island radar and peripheral surface observations. The tropical low has been showing signs of development over the past 24 hours. Multiple episodes of deep convection, showing some curvature, have developed near the center in the past 12 to 24 hours, although they have remained somewhat transient in nature. Dvorak analysis was based on a curved band wrapping 0.4 to 0.5 in both Vis and IR imagery, yielding a DT of 2.5. Given the transient nature of this convection though, the FT was biased towards the MET and PT of 2.0.

The low is currently being steered to the south southeast by the combination of a mid level ridge to the east, and an upper level trough moving eastwards across the Tasman Sea. During the weekend, this trough is expected to move further east, and a new mid level ridge should build to the south of the system, leading to a change to a westerly track, taking the cyclone onto the Queensland coast. All model guidance is in agreement with this scenario, although there are some differences in forward speed among the guidance, which affects not only the time of impact, but also the length of time available for the system to intensify over the water.

The system is located in an area of weak vertical wind shear over sea surface temperatures of 29-30C. Upper level outflow is good in all quadrants, and may become further enhanced to the south due to the weak interaction with the upper trough. Overall, the environment will remain supportive of intensification right up to landfall on the Queensland coast, and it is reasonably likely that the system will have sufficient time over water to reach category 3 status. A period of more rapid intensification cannot be ruled out, which would lead to a higher category system at landfall.

Tropical Cyclone Watches/Warnings
========================
A TROPICAL CYCLONE WATCH is in effect from Cape Tribulation to St Lawrence including Cairns, Townsville and Mackay of Queensland

Storm archives (Active Storms in Color)
======================================
March
- 997 hPa

Next ID: 25U

------------------------------------------------ -------------

========================
Southeastern Pacific Ocean
=========================

Area of Responsibility
==============================
RSMC: Nadi (east of 160E)
TCWC: Wellington (east of 160E and south of 25S)


Fiji Meteorological Services

Tropical Disturbance Summary
===========================

Storm archives (Active Storms in Color)
======================================
March
17F.NONAME - 1006 hPa
18F.NONAME - 1006 hPa

Next ID: 19F

=================================================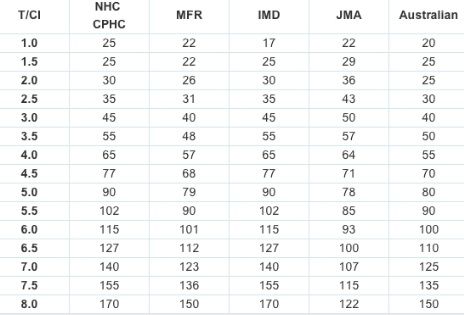 Will be posting in my blog as Grifforzer. My account will not let me to post as HadesGodWyvern here for unknown reasons..
The views of the author are his/her own and do not necessarily represent the position of The Weather Company or its parent, IBM.
Reader Comments
Comments will take a few seconds to appear.
TL - Western Australia
Recent Posts
Previous Entries for 2017